The products listed in the table below may be purchased individually online via this website for delivery to UK Mainland Only - for Scottish Highlands, Isle of Wight, Channel Islands and other regions please contact us
For multiple orders, please contact us for the best price.
ITEM
DESCRIPTION
PRICE
(excl VAT)
PRICE
(incl VAT)

Dual Purpose Livestock Hut

6ft x 4ft approx, Eco recycled 9mm plastic sheets. Timber framed

£458.33

£550.00

Dual Purpose Livestock Hut With Poultry Pack

£541.67

£650.00
Dual Purpose Livestock Hut With Poultry Pack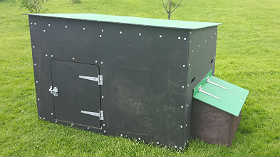 BRAND NEW DUAL PURPOSE LIVESTOCK HUTS

6ft x 4ft approx

Internal Measurments
Width: 42 1/2"
Lenght: 70"
Height at rear: 37"
Height at front: 43"
Door Size: 24 1/2" wide
28 1/2" High

Ventilation holes at rear
MULTI USE-PIGS-GOATS-POULTRY-DOG KENNELS
EKO RECYCLED BRITISH MADE 9mm PLASTIC SHEETS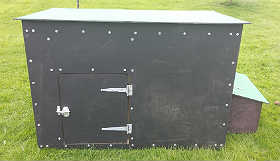 THESE BOARDS ARE FANTASTIC THE LIVESTOCK HUT LIFTS FROM THE FLOOR FOR EASY CLEANING-THE PLASTIC IS SMOOTH AND CAN BE HOSED OR POWERWASHED.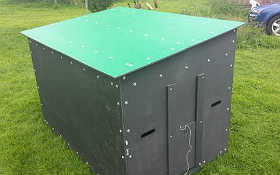 IF YOU ARE BUYING THIS FOR PIGS WE WOULD SUPLLY A TIMBER FLOOR AS PLATIC FLOORS CAN BE SLIPPERY
THIS HOUSE WILL TAKE 3-4 PIGS TO PORK WEIGHT
(RSPCA RECOMENDED SPACE STANDARDS)
IF YOU HAVE A DOOR FITTED (£25.00 ex vat (£5.00) £30.00 inc vat) THEN THIS BRILLIANT HUT WILL HOUSE
18-20 DUCKS
8-10 GEESE OR TURKEYS
3-4 PYGMY GOATS
OR 3 OR 4 LARGE BREED DOGS
WE CAN DO A POULTRY PACK TO CONVERT THIS HOUSE TO A RANGE HOUSE FOR 20 BIRDS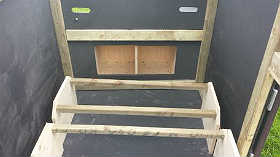 THIS CONSISTS OF A PERCH SYSTEM, EXTERNAL NEST BOX AND A SLIDING POPHOLE-THERE IS AN INTERNAL SCRATCH AREA BETWEEN THE PERCHES AND THE NEST TRAY -THIS KEEPS YOUR EGGS CLEAN.
SLIDING POPHOLE-INTERNAL NEST TRAYAND REMOVABLE PERCHES
Why not look at our Hotline 50 metre special offer electric fence kit-keeps the birds safe fantastic dual energiser included that runs off battery or mains.

This house will never ever rot,needs no maintenance and is only available in Henry Ford Black The ventilators, handholds and floor are included in the price.
THIS HOUSE IS FULLY ASSEMBLED AND IT WILL COME TO YOU READY TO USE ON A DOUBLE PALLET OR DELIVERY VAN.

Poultry Starter Electric Fencing Kit

Handy One box solution available with either 25m or 50m green net:

25m R.R.P £168.40 ex. VAT (£33.68)

Special Offer Price ex. VAT £133.80 (£26.76) £160.56 inc. VAT

50m R.R.P £205.00 (£41.00)

Special Offer Price ex. VAT £161.25

(£32.25) £193.50 inc. VAT

Includes

25m of green poultry netting with posts

HLC40 & 80 dual power energizer can be powered from 12v battery or from 220v mains

Requires battery or HT lead out cable (for mains)

Four rigid corner posts and an earth stake
HOTLINE BRITISH MADE - Hotline guarantee their products for 2 YEARS