Garden and Pet Products - Eco Garden Sheds
2.4m x 2.4m Eco Clad Shed/Storage shed
These self assembly sheds come in panels making it easy to assemble, you simply screw the panels together!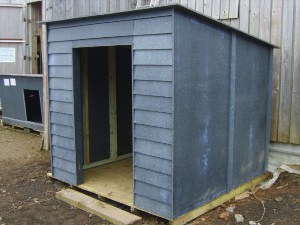 Door size 1.2m
Recycled plastic sheet clad shed/storage building
This shed is cladded with strong 18mm rcycled plastic Ecosheet
The roof is also made from Ecosheet making this building eco freindly
The Ecosheets are maintenance free, strong, shatterproof and easily cleaned. The frame timber is tanalised treated and no timber is in contact with the ground as we clad it with ecosheet.
£630.00 ex vat (£126.00) £756.00 inc vat
Optional Extras
Floor:
Heavy duty 100mm sawn non slip boards on 4"x2" treated tanalised runners
£137.00 ex vat (£27.40) £164.10 inc vat
Stable Door:
Made from 6"x1" treated tanalised boards and heavy duty galvanised fixings
£83.33 ex vat (£16.67) £100.00 inc vat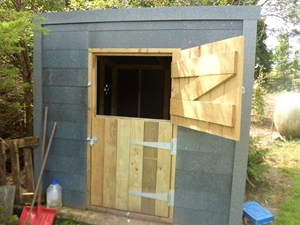 Delivery on a double pallet space to the following postcodes:
AL, B, BA, BB, BD, BL, BS, CB, CH, CV, CW, DE, DN, DY, GL, HD, HP, HR, HX, L, LE, LS, LU, M, MK, NN, NG, OL, OX, PE, PR, RH, RG, S, SG, SK, SL, SN, ST, TF, WA, WF, WN, WR, WS, WV
£56.67 ex vat (£11.33) £68.00 inc vat
All other postcodes please give us a call