Pig Arks - Plastic Arks
The products listed in the table below may be purchased individually online via this website for delivery to UK Mainland Only - for Scottish Highlands, Isle of Wight, Channel Islands and other regions please contact us
For multiple orders, please contact us for the best price.
ITEM
DESCRIPTION
PRICE
(excl VAT)
PRICE
(incl VAT)

Dual Purpose Livestock Hut

6ft x 4ft approx, Eco recycled 9mm plastic sheets. Timber framed

£458.33

£550.00

Small Livestock Hut

External Dimensions: 126cm (W) x 119cm (D) x 86cm (H) Internal Dimensions: 121cm (W) x 114cm (D) x 83cm(H) Door Opening Dimensions: 39cm (W) x 68cm (H)

£362.50

£435.00

THE VERSATILE CARBERY ARK IN USE AT HILLSIDE ANIMAL CENTRE
Insulated Dual Purpose Livestock Hut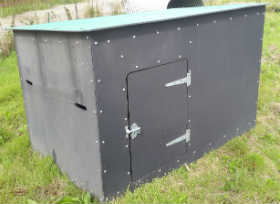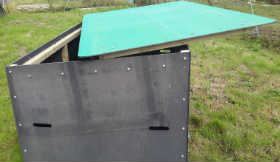 Special introductory offer £458.33 ex vat (£91.67) £550.00 inc vat delivered
multi use - pigs -goats - poultry - dog kennels
Eco recycled british made 12mm plastic sheets
As you can see from the pictures the ark lifts from the floor for easy cleaning. The plastic is smooth so can be hosed or power washed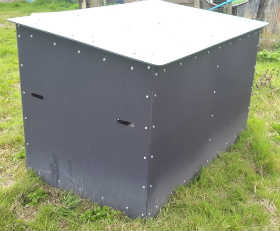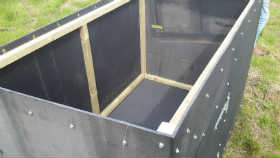 (If you are buying this for pigs we advise that you stick rubber car mat in the entrance as it is smooth plastic and this will avoid the pigs slipping. Really topping the house up with straw will also avoid the issue)

This livestock hut is in a league of it's own compared to other recycled plastic arks and huts on the market. Much easier to clean, power wash or hose out and is dry and ready for re use in minutes. Two people can easily lift this house off its floor so you do not have to break your back cleaning it out.
This insulated ventilated house will take 3-4 pigs to pork weight
(RSPCA space standard)

This house will fit:

With a door fitted (£25.00 ex vat (£5.00) £30.00 inc vat)

18-20 ducks
8-10 geese or turkeys
3-4 pygmy goats
or 3 OR 4 large breed dogs
We can do a poultry pack to convert this house to a range house for 20 birds. This consists of a perch system and an external nest box. There is an internal scratch area between the perches and the nest box, this keeps your eggs clean.
The poultry pack to make a 20 bird insulated ventilated house is £83.33 ex vat (£16.66) £100.00 inc vat
The 20 bird range house total is £541.67 ex vat (£108.33) £650.00 inc vat plus delivery
This house will never ever rot, needs no maintenance and is only available in Henry Ford Black The ventilators, handholds and floor are included in the price.
This house can be delivery assembled or unassembled
"The eco ark turned up Friday, we assembled it on Saturday and the pigs moved in on Saturday. They seem really happy with it, as are we.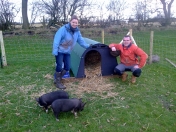 Great product.
J.N"

*EASY ASSEMBLY REQUIRED

Micro Pig Ark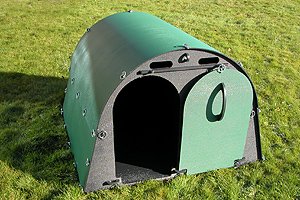 Designed for small breeds.

Made from recycled plastic - no maintenance required.

Immensely strong - 12mm thick panels on front, back and floor.

Quick assembly and dis-assembly.

Central roof panel easily removed for ease of cleaning.

Hand holes provided - ark weighs 47Kg and can be moved by 2 people.

Eyes at each end of the roof bar to attach a rope.

Two optional adjusting vents.

External Dimensions: 126cm (W) x 119cm (D) x 86cm (H)

Internal Dimensions: 121cm (W) x 114cm (D) x 83cm(H)

Door Opening Dimensions: 39cm (W) x 68cm (H)

( this ark is supplied with a door, primarily for people who will use this ark to house other livestock such as geese).
£350 ex vat (54.50 £420.00 inc vat
£12.50 ex vat (£1.99) £15.00 inc vat Delivery (to England and Wales)
*EASY ASSEMBLY REQUIRED*

Carbery Ark
Multi-purpose plastic ark the size is suitable for two calves, sheep, a sow and litter - 8-10 porkers - goats, dogs.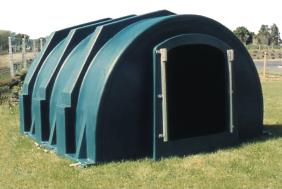 Size: 7ft 6ins x 7ft 6ins x 4ft 6ins high.
This ark is virtually indestructible but lightweight for easy cleaning and moving. Ventilated door at rear. Sliders supplied for a front plywood door (ply not supplied)
No rusting, no rotting

Long life

Hygienic easy clean

Good insulation

Lightweight

Made from hard wearing non-recycled UV stabilised polythene

6 galvanised spikes to secure the ark to the ground in exposed conditions



This Ark can be sent by carriers to all regions of England, Scotland and Wales. Please contact us with your postcode for a delivery price. We can get up to 3 arks on a pallet.
£579.00ex vat (£105.00) £694.80 inc Vat